…He is evasive under pressure and his ability to deliver passes through traffic will make him one of the most sought after QB recruits in the country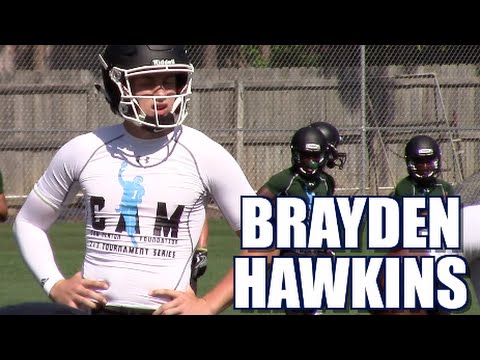 Brayden Hawkins
Quarterback Brayden Hawkins is an under-the-radar prospect, but expect for that to soon change. The 6'3 junior from South Carolina is quickly becoming a rising prospect on the national recruiting scene after dominating performances in 7v7 tournaments and impressive showings at several college camps.
"This has been a great summer" Brayden said. "I have had a chance to visit several college camps, and compete with some of the best QBs in the country. I am really excited about the upcoming season, I am ready to go! I have been watching a lot of film and have been working hard in the weight room. I want to grow as a leader, and be a consistent playmaker for my team. Our goal is to win the state championship."
Brayden is a big, strong QB with a quick release, powerful arm, and excellent downfield accuracy. His velocity and range are impressive for his age, allowing him to throw the deep outs and corner routes with good timing.
"Although we run a spread style offense, I consider myself a pocket passer" Hawkins said. "I am a pass first kind of quarterback, but I can make plays with my feet was well."
After watching Brayden's recent highlights videos, it's clear to see that he has the talent to play division 1 football. He can throw the deep ball as well as any QB in the country. He is evasive under pressure and his ability to deliver passes through traffic will make him one of the most sought after QB recruits in the country.
Brayden has been competing and working hard this off-season, hoping to elevate his profile as a national prospect. He attended camps at UCLA, South Carolina, Virginia, Texas AM, Southern Miss, and Florida. "I have also been fortunate enough to train with QB coach Steve Clarkson. "He has trained a lot of Pro and college QBs, and I learned so much while working with him" Brayden said. "I also had a chance to attend and compete at his QB camp in San Diego this summer." According to Tom Loy of 247Sports.com, "Brayden held his own with some of the much more highly touted quarterbacks from across the country." "There were a lot of very good, nationally ranked QBs at the camp and I came in 10th overall" Brayden said.
Brayden also competed in the Cam Newton 2016 7v7 Tournament in Charlotte and was easily one of the most impressive kids at the camp. He was able to shred opposing defenses with both the deep ball and show nice touch in the intermediate routes.
Recruiting has also started to pick up for Brayden. He has heard from several colleges this summer, and it wont be long before the offers start to pour in."I'm excited ! It's pretty awesome to know I have a chance to play football in college while earning my degree. My parents are very big on education, so having the opportunity to do both is really cool."