Stephen Daniel Thomas
As a first year head coach he lead his team to the schools first league title and playoff win in over 10 years. His teams went on to make the CIF playoffs all three years with him at the helm. During that time 10 players earned full football scholarships including a US Army All-American.
For several years Stephen also worked as a professional video editor with Creative Touch Productions (Culver City, CA) and later went on to found Under The Radar Sports Media in 2009. Since then, he has produced over 700 highlight videos for Division-1 athletes across the country and even several international students. Coach Thomas is well known and respected in the division-1 coaching community.
Donald Jones
Donald Jones- A former linebacker in the National Football League, Donald was drafted in the ninth round of the 1992 NFL Draft. Donald played professional football for the New York Jets, and the Minnesota Vikings. Donald graduated from the University of Washington in 1992. He was also was recognized for his outstanding ability on the football field. These accolades include two-time 1st Team All PAC 10 All American, All-Time sack leader at the University of Washington and induction into the Husky Hall of Fame. His college career was culminated by playing in the 1992 Rose Bowl National Championship where he was the Team Captain of the National Championship Team and the ABC Rose Bowl MVP. In addition to his outstanding professional accomplishments, Donald is also a devoted husband and father of 3 children.
After Donald's football career was ended by serious knee injury he developed a passion for helping kids reach their potential in life. He learned while growing up working in the Virginia Tobacco fields and in his Father's business that it was going to take discipline and a plan to achieve your goals in life. Donald knows that the youth are the future and believes it is his ministry and responsibility to give back for all that God has richly blessed him with. After taking on a coaching position at Inglewood High School in California, Donald was able to help several kids get out of gangs and move on to college. Today, Donald continues to use Sports as a Platform to reach kids all over the World as Coach and Mentor.
Charles Mincy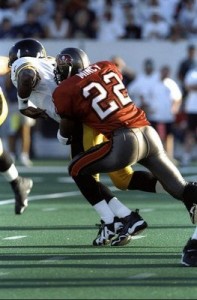 9 year NFL veteran and football coach, Charles Mincy has spent his entire adult life in the football arena. He has travelled the world teaching football through camps and clinics. A native of Los Angeles, he has coaching credits at Dorsey High and Inglewood High as Defensive Back Coach and Head Coach.
As a senior, Mincy earned Defensive MVP of the 1991 Rose Bowl, All Pac-10 honors and a Shrine All-Star Game selection at the University of Washington. He was drafted to the Kansas City Chiefs in the 5th round in 1991. From there his NFL career included stops at the Minnesota Vikings, Tampa Bay Buccaneers and Oakland Raiders where he learned from coaches the likes of Jon Gruden, Marty Shottenheimer, Denny Green, Herman Edwards and Tony Dungy.
Coaching and talent scouting are the natural undertakings that have currently engulfed his passions. Turning around a fledgling Inglewood program and using it as a vehicle to connect students to college opportunities, Mincy has discovered a formula for getting inner-city kids to share the vision of college and education.
With a network of coaches and relationships made over the years, Mincy is now working to search out and develop talent and collegiate opportunities to reinforce a pipeline between often over-looked talent and schools in need of legitimate, qualified canidates.
Mincy, a Pasadena City College graduate, did coursework at the University of Washington and received his Bachelors from Azusa Pacific University. He is currently attending the University of Southern California in pursuit of a Masters in Education.
Khalid Ali
Khalid Ali comes to Under The Radar following a distinguished 8-year run as an assistant coach at Inglewood High School, where he served as running backs coach and recruiting coordinator. In his time as an assistant coach, Ali implemented a comprehensive recruiting strategy that helped nearly two-dozen Inglewood athletes achieve their goal of receiving college scholarships.
Ali has earned the reputation as a tireless worker and bright football mind, but more importantly, he also served as a positive role model to the players that he coached over the last eight football seasons.
On the field, he helped guide Inglewood to great success that included four consecutive appearances in the C.I.F. playoffs. He is also one of the only coaches in the country that has mentored multiple U.S. Army All-Americans: Shaquelle Evans (UCLA) and Derrick Woods (Oklahoma).
A native of Los Angeles, Ali has a degree in Broadcast Journalism from Southern Arkansas University.
Lafayette George
Lafayette George is a former linebackers coach/defensive coordinator at Inglewood High School.  Lafayette has also served in various assistant and head coaching positions for wrestling at multiple high schools.
In addition, Lafayette is a Managing Director of a large Institutional/Retail Investment Firm.  Mr. George has immersed himself into the financial services industry across various products, manager structures, account types, clients, and custodians. He has specific experience in long/short equities, options, and fixed-income for various managers, including a hedge fund, traditional asset manager, and a sell side Institutional firm. He has had overall responsibility for the strategic direction of many of the firm's businesses throughout his 14-year career.
Additionally, he is also on the Board of Directors for various not-for-profit educational and community service based organizations. These organizations provide a range of academic, personal enrichment and mentoring services to under priveleged students from high school through college and throughout their careers.
Additionally, Mr. George majored in Civil engineering at the University of Washington and furthered his education in  business at Azusa Pacific University.