In His Own Words
My thing has always been just go out there and give it your all and what happens happens.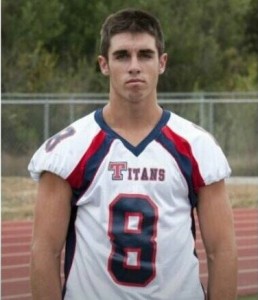 Jake Smeltzer – WR (Tesoro High, CA)
My name is Jake Smeltzer, I play wide receiver for Tesoro High School and am going into my senior year. Last year I had 43 catches for about 730 yards and 7 touchdowns. I made first team all South Coast League and third team All-State (CA). To play football you have to have a great amount of dedication because of how time consuming it is. You really have to have a love for the game if you want to be successful. Last year our team went 9-3, losing in the second round of playoffs to the number one team in the nation; St. John Bosco.  About a week or two later our team was already back in the weight room preparing ourselves for next season.
Along with all the lifting with my team, I joined a travel 7 on 7 team called Body By Tra to get myself better against some very good talent in the 7 on 7 circuit. Our team was loaded with talent and I got a lot better going up against some of the top talent in California in the tournaments we would play in. Playing in the 7 on 7 circuit helped me tremendously with all my skills as a wide receiver and helped me get some extra publicity to get my name out there. After the circuit for 7 on 7 was over, I started attending a few college camps. This off-season the camps I attended were Fresno St, Boise St, San Jose St, Nevada and Cal. I tried to pick camps where I have interest in the school and could see myself going to but also camps that I feel I could have possibly earned scholarships in if I performed well. I performed well in all the camps I went to but haven't earned a scholarship from any of those schools yet.  My recruitment hasn't been as heated as I would've expected at this point, Fortunately, I do have offers from Harvard, Yale, Air Force, Navy, Sac St, Montana, Lafayette, San Diego, Holy Cross and Wofford. The recruiting process can get very stressful at times because some coaches tell you what you want to hear instead of being honest with you.  One day you think a school might be wanting to offer you and the next day they wont't return a call. You will realize at times they said all those things so you would attend their camp and even if you perform to your peak at the camp they still may not offer you. My thing has always been just go out there and give it your all and what happens happens. The recruiting process is something I will never get and that's why I try not to get to overwhelmed or frustrated about it. I am staying focused on my team and this upcoming season not all the college drama.
This upcoming season our schedule is La Mirada, Chaparral, Upland, West Covina, Corona Del Mar, San Clemente, El Toro, Mission Viejo, Dana Hills and San Juan Hills. We have a bunch of weapons this year and with our coaching staff we should have another successful season and hopefully have a chance of winning CIF and State. Our Friday night lights atmosphere is amazing, we have some of the best and most loyal fans around that come support us every game whether it is home or away, I can't thank them enough for all they do. Our team at Tesoro is like a family and I wouldn't trade them for anything.