Lake Stevens scored another 48 unanswered points over the next three quarters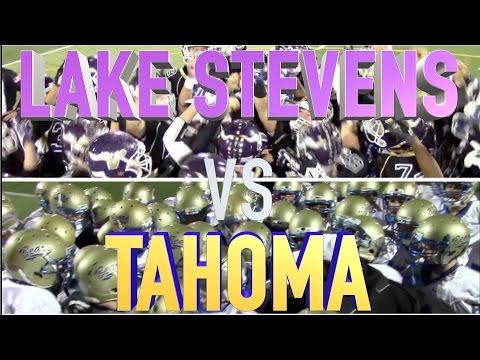 Washington "Game of the Week" – Week 10
The Lake Stevens Vikings' offense was hitting on all cylinders, all night, and the defense shut out the Tahoma Bears for the final three quarters, as the Viks cruised to a 61-10 district playoff victory on November 6. Lake Stevens had nine TD's and never punted. The Viks are one of five teams that are
10-0 in the 4A state tournament.
The Bears (7-3) got on the scoreboard first, in their opening drive, with a Macen Granlund 32-yard FG. They continued to make it interesting with an impressive drive late in the first quarter, culminating with a 2-yard TD run by QB Amandre Williams, who is committed to Washington as a DE. The Bears trailed only 13 -10 at the end of the first.
But, under the direction of Georgia-bound QB Jacob Eason, Lake Stevens scored another 48 unanswered points over the next three quarters. Considered by many to have the best arm in the country, Eason threw five TD passes, zipping three of them to receiver Riley Krenz who finished with seven catches and 93 yards. Soon after RB Andrew Grimes scored a first quarter TD, he tweaked a knee and sat out the rest of the game. But his back up, Asi Tupua, filled in quite nicely as he had two rushing TDs and 175 yards on 15 carries.
Williams threw several nice passes of his own throughout the game, for big yardage, to playmakers Caleb Brown, Jerrel Chapman and Austin Brown. Williams is no stranger to big plays at QB as he had one of the greatest passing games in Washington high school history last year with 579 yards against Rogers. He finished this season 241/402 for 3,235 yards and 29 TDs.
Lake Stevens next hosts Issaquah in first-round state playoff action, which makes for an interesting QB plot. Issaquah beat Lake Stevens in 7on7 passing league tournament in Arlington during the summer, which UTR covered. The MVP from that tournament was Issaquah QB Camron Humphrey who was also Jacob Eason's teammate earlier this year, for an all-star 7on7 team (Team FSP) that competed in Las Vegas and Los Angeles tournaments, as well as BFA's Battle of Seattle. These tourneys were also covered by UTR and highlights can be found on our YouTube page as well.