this rivalry game turned out to be one of the best games UTR has covered all season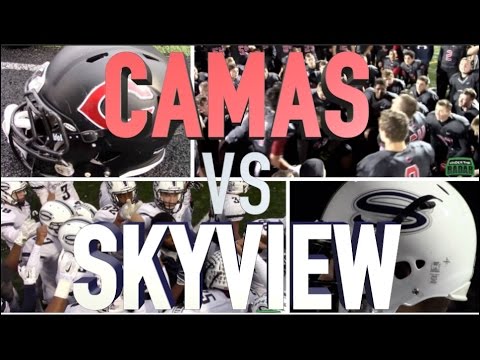 Washington "Game of the Week" – Week 11
This was supposed to be a blowout. It was supposed to be a mere formality. The Camas Papermakers (#1 in AP 4A poll) were supposed to handle the Skyview Storm (#9 in AP) just as they did in a Week 6 away game, dominating them 41 – 10 at the Kiggins Bowl. But, it was nothing of the sort, as this rivalry game turned out to be one of the best games UTR has covered all season and now fans are calling it a classic that will be remembered for years. This first round WIAA State Playoff game was close throughtout. It was filled with back and forth competitive drama, big plays (there were four TDs over 80 yards) and scores by special teams and defense. And for "icing on the cake", the winner was not determined until a game-winning drive with 2:16 remaining.
At first, the sense in a packed Doc Harris stadium was that the Papermakers would dominate, after sophomore CB/WR Drake Owen took the opening kickoff 95 yards. But, a scrappy Skyview defense would shut out the Camas offense most of the first half, cause turnovers and came up with the next score of the game, a Jayden Chatman (sophomore) sack on Camas QB Liam Fitzgerald for a safety with 2:10 left in the first quarter. On the next play from scrimmage, yet another sophomore, Storm WR Tavis Chunphakvenn-Pinkney made a nice over-the-shoulder catch in the deep flat and outran anyone nearby for an 87-yard score and underdog Skyview was up 9 – 7.
Nearly the entire second quarter was a complete defensive battle. Each team turned the ball over on fumbles and late in the quarter a Camas interception gave the Papermakers good field position which led to a Fitzgerald 3-yard plunge into the end zone, putting Camas up 14 – 9 with 1:24 left in the first half.
On the Storm's second possession in the second half, they methodically drove 59 yards down the field with multiple short runs and passes, and obviously gained momentum back. But, on a rollout to his right, Skyview QB Brody Barnum threw across the field, giving Camas safety Jack Colletto wide open space for a pick-6 that he returned 94 yards, putting Camas up 21 – 9 with 3:44 left in the third quarter.