the only close thing about this game was the 0 – 0 score at kickoff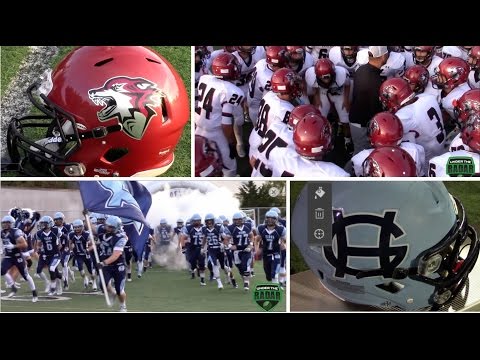 Washington "Game of the Week" – Week 3
In 2014, the Gig Harbor Tides were four points away from an undefeated regular season, losing a close one at Eastlake 24 – 21. On Thursday, September 17, with home field advantage, the only close thing about this game was the 0 – 0 score at kickoff. The Tides rolled into Roy Anderson Field like a tsunami and led 33 – 0 at half time, then cruised to a 40-6 victory and put in their bid as a top 4A contender.
Eastlake may have had a little "bus lag" as they faced horrendous traffic and arrived close to the originally-scheduled kickoff time. But, fresh legs would have been no match for Gig Harbor's arsenal of playmakers. Dual threat QB Davis Alexander (who has a UTR Spotlight here) went 14/30 for 225 yards and two TDs while rushing for 106 yards and one TD, all in three quarters. Noah Samsen, who had a spectacular fingertip catch in the first quarter, let an Alexander pass tip off his those fingers in the second quarter, but landed into the hands of WR Cory Condon for his second TD of the night. Condon also finished with 102 yards. RB Adrian Valona broke several tackles and had some nice runs and a TD, while speedy, smooth WR Kyle Olson-Urbon had a big opening KO return, made several nice catches and also punted well. The Tides defense also flew around, hit hard and contained Eastlake's elusive QB Mark Whitley most of the night.
Eastlake had just cracked the Top 10 this week in nearly every local media's 4A rankings (most of which had the Wolves at #7 after their close win against defending 4A champ Bothell and a 48-0 domination of Inglemoor). Gig Harbor is Top 3 in every local media poll and #1 according to NW Elite Index.