Big plays and big turnovers were the keys to the Sumner Spartans' 31-24 victory over the Lakes Lancers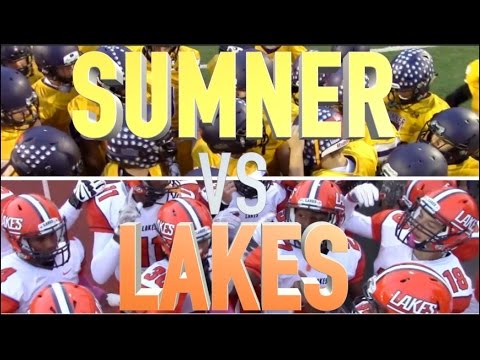 Washington "Game of the Week" – Week 7
Big plays and big turnovers were the keys to the Sumner Spartans' 31-24 victory over the Lakes Lancers on October 16 in Week 7.
After starting off 5-0 with an average score of 50-14, Lakes has suffered two heartbreakers in a row. In Week 6, Lakes lost 46-42 to Auburn Mountainview, the go-ahead AM touchdown coming on a 4th and goal with 0:53 left. This week, Lakes had a chance to go up 28-24, with 10:40 left in the game. But, on 2nd and goal from the 7, the Lancers ran up the middle and fumbled on the 1 yard line, which was recovered by Sumner in the end zone for a touchback.
Sumner (now 7-0) ate up over five minutes of clock, on the ground, and with 5:12 remaining, Josh Riley ran in from 14 yards out to make it 31-21, Sumner. Three plays earlier, Riley kept the drive alive, as he was the up man on a fake punt, received the snap and skirted around the right end 21 yards for a first down, on the short side of the field.
Right after a halftime fireworks display, Wedington and Riley also exploded as each running back scored on Sumner's first two offensive touches of the second half. Both ran straight up the gut, evaded a would-be linebacker tackler, Wedington for 61 and Riley for 80. Sumner also scored on its first offensive play of the game, a 69-yard reception by Tyson Rainwater, thrown by WR Tre Weed after he was handed a reverse.
Lakes QB Jaiave Magalei had some fireworks of his own, especially on spectacular completions to athletic WR Chris Hunter. Magalei was 21/41 for a career high of 409 yards. Lakes got the first score of the game on their opening drive, a 67-yard Magalei strike to Ricardo McLean. Lakes' other two TD's came on 1-yard runs by Elijah McMillon after drives that including nifty footwork from RB Andrew Bostic and Magalei's passing. At times, Lakes looked like they could move the ball at will, but INT's by Wedington and Rainwater stopped other potential big drives.
On Lakes' last drive of the night, Hunter had a spectacular one-hand grab (with his left), but it was too deep and out of the end zone. Lakes kicked a field goal with 1:41 left to make it 31-24. The ensuing onside kick was recovered by Sumner's Alexander Zaragoza and the Spartans ran out the clock.
Riley and Wedington each had 19 carries for 207 and 177 yards, respectively. Sophomore LB Ben Wilson had 22 tackles for Sumner, many of them with great force and some de-cleating. He averages 16 tackles per game on the year and has had 45 in the last two contests.
Sumner can lock up the 3A SPSL title with a win over Bonney Lake in Week 8. Lakes is in a 3-way tie for 2nd with Bonney Lake and Auburn Moutainview, all with 3-2 league game records.