Although the game was a slow, defensive struggle in the first half …the playmaking picked up in the second half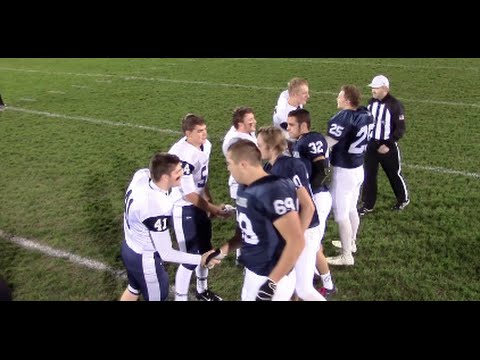 Washington "Game of the Week" – Week 8
On October 23, the Olympia Bears walked onto the Bellarmine Prep Lions' field, fresh off a near upset of Gig Harbor (#1 in 4A in some polls). But, in the end a "walk off" field goal in OT by Bryce Bendixen sent Olympia home with their second consecutive loss of three points or less. This Homecoming game was Bellarmine's first OT win this year. Their only losses came in OT to Gonzaga Prep and Yelm. The 6 – 2 Lions earned a spot back into everyone's Top 10 again, while Bendixen's kick also booted Olympia out of the Top 10 (being ranked #7 in most polls). This victory propels the Lions into their showdown at Gig Harbor next Friday to determine the #1 seed from the 4A Narrows league.
Although the game was a slow, defensive struggle in the first half (ending with Olympia up 6 – 0), the playmaking picked up in the second half and intensified at the end of regulation. With a 13 – 13 tie and two minutes left in the game, Olympia was poised to score, sitting on the Lions' 15-yard line. But an Ahmad Lewis interception in the end zone ended the Bears drive. Lewis had returned the pick just five yards and the Lions eventually were backed up to their own 1-yard line. On 4th and 24, Bendixen lined up at the back of the end zone and booted the ball 40 yards and Olympia took a knee on the last play of regulation.
In overtime, another Olympia turnover, at the hands of Ahmad Lewis was key, just as it was near the end of regulation. On 3rd and 10 from the 25, running back Jared Toussaint got the Bears a 1st down on a 12 yard swing pass. But, on the next play 5'11", 230-lb fullback Clay Markoff took a handoff 8 yards up the middle and looked like he may score. But, Lewis jarred the ball loose at the 5-yard line, and Lion DB Isaiah Conner recovered on the 1 yard line.
Bellarmine moved the ball to Olympia's 18 and the Bears tried to ice Bendixen with a time out. Then Bellarmine's offense returned to the field and unsuccessfully attempted to draw Olympia offsides. The timeouts, pressure and waiting had no effect on Bendixen at all, as he was calm and cool and punched in the game-winning 34-yard field goal.
Toussaint, a freshman, had the play of the game in regulation with a 72-yard rushing TD. On top of contributing to two game-saving turnovers, Lewis also had 92 yards rushing and one TD of his own.