The Crusaders scored on an opening 80-yard drive and dominated thereafter.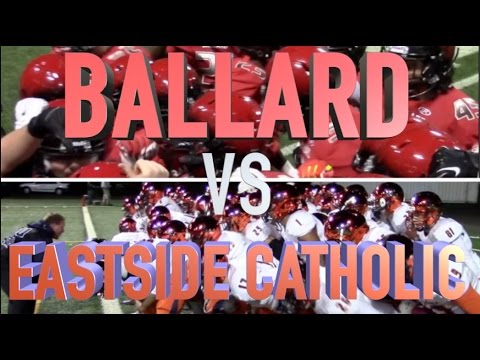 Washington "Game of the Week" – Week 9
On October 30, the Ballard Beavers walked into Seattle Memorial Stadium undefeated in Washington State play. But, they were no match for defending 3A champion Eastside Catholic Crusaders who won the Metro League Championship 40 – 3 after putting up all their points in the first half.
This Ballard team obviously has drastically improved from their 5-5 record in 2014, especially with the additions of transferred playmakers Antoine Patton (from Garfield) and Elijah Davis (Blanchet). But, Eastside Catholic has a few playmakers of their own and lost few key players from last year's team that broke Bellevue's 66-game win streak in the Tacoma Dome title game. They are the consensus overall #1 team in Washington at this point in the season.
One of those Eastside Catholic playmakers, Cornell commit QB Harley Kirsch, threw for his 100th touchdown as a Crusader. The Crusaders scored on an opening 80-yard drive and dominated thereafter. The offense shared the touchdown-scoring wealth among their playmakers as Kirsch threw two TD's to TE Hunter Bryant, and one each to Cal commit Matt Laris and Devon Arbis-Jackson. UW commit Brandon Wellington and Tyler Folkes each had short rushing touchdowns. Kirsch finished 18/21 for 268 yards while avoiding a persistent Ballard rush. Bryant had 6 catches for 121 yards. The Crusaders sat all starters to open the second half.
Some of Ballard's biggest and most spectacular plays were negated by penalties, including a 60 yard TD pass from QB Davine Tullis to WR Simon Robinson. Tullis also showed great athleticism when avoiding the Crusader rush and was Ballard's leading rusher on the night with 59 yards.
Eastside Catholic's #1 Metro League seed sets them up for a first round playoff match at home with Edmonds-Woodway. Ballard is the #2 seed in the league and opens up the playoffs hosting Central Kitsap.